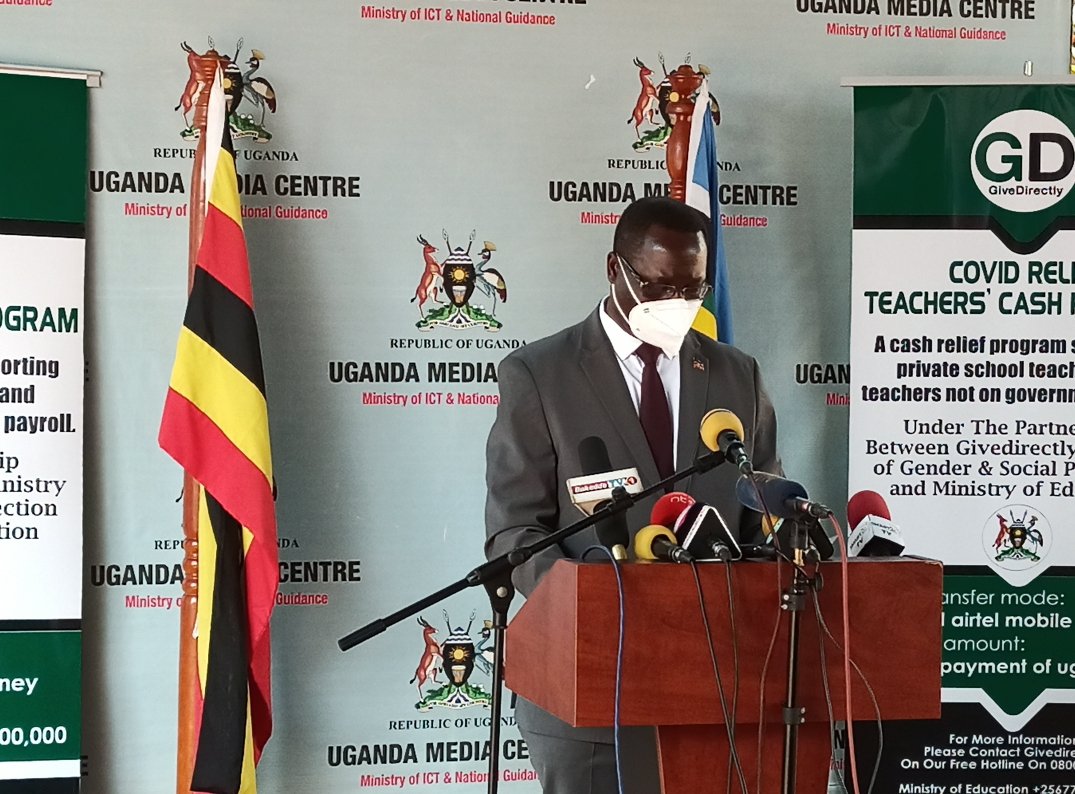 The Ministry of Gender, Labour and Social Development (MoGLSD), in collaboration with the Ministry of Education and Sports, Ministry of Local Government and National Information Technology Authority-Uganda, with support from GiveDirectly (GD) are implementing the cash transfer to teachers in Private Primary, Secondary, Vocational and Health Training Institutions/Schools across the Country. The purpose of the intervention is to support teachers whose income was disrupted by COVID-19 containment measures for close to two (2) years. The program targets 150,000 teachers and each will receive cash (UGX 200,000 net).
The selection of beneficiaries for the program is based on the teachers that fit the following criteria:
i. are not on Government payroll;
ii.                 are duly registered or licensed by the Ministry of Education and Sports or have proof of submission of application for registration/licensing;
iii. were already teaching in a school licensed or registered by the Ministry of Education and Sports;
iv. did not benefit from the June – September 2021 GoU COVID-19 cash relief program; and
v. have a mobile money account (MTN or Airtel) registered in their name.
Beneficiary data collection and upload by Private School/Institution Headteachers/Principals IS currently ongoing through the MoGLSD Online Data Collection System (https://cashrelief.mglsd.go.ug), from which the successfully verified beneficiaries will be paid. The Program is expected to close by 15th March 2022.
For technical guidance in relation to the implementation of this intervention, you can contact any of the following:
●                Commissioner Labour, Industrial Relations and ProductivityTel: 0775-600-301
Email: support@mglsd.go.ug  
●                Commissioner Private Schools and Institutions
Tel: 0772-368-270
Email: mugishahenrymuntu@gmail.com
● GiveDirectly Senior Manager, External Relations
Tel: 0800-220-550
Email: ugcovid@givedirectly.org
For further information on the Program, contact your Chief Administrative Officer or Town Clerk.
PERMANENT SECRETARY,
MINISTRY OF GENDER, LABOUR AND SOCIAL DEVELOPMENT.