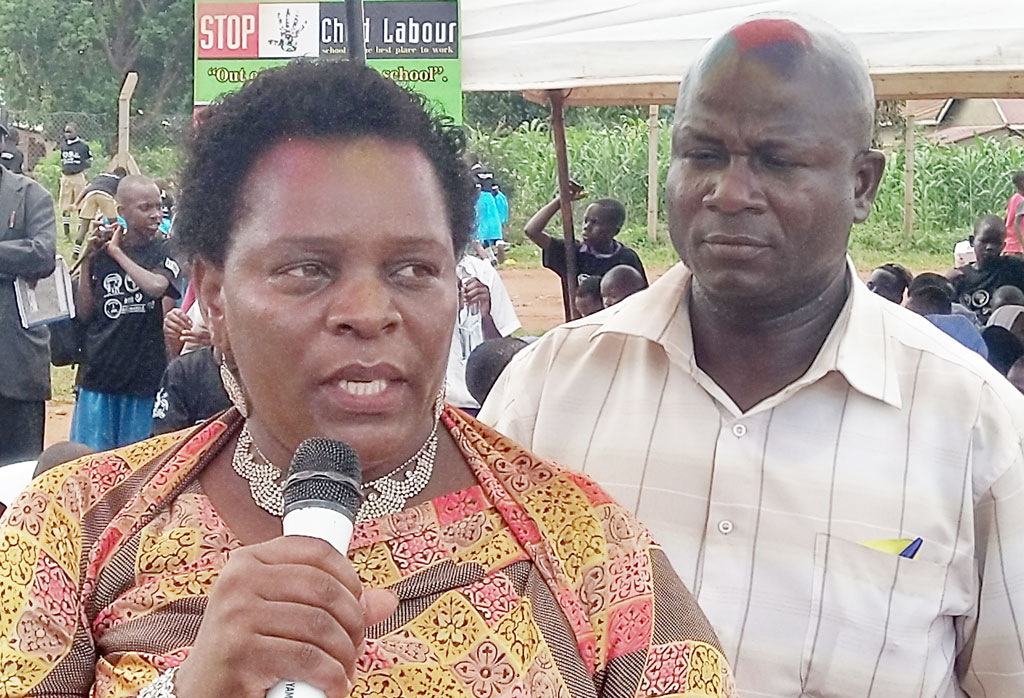 The Minister of State for Gender and Culture Affairs, Hon. Mutuuzo Peace Regis has called on the police attached to the minerals sector to enforce the ban on children working in mines.
Mutuuzo says in many areas where elementary mining is being done, children are engaged in hard labour activities for small commissions.
She cited an example of gold mines in Namayingo and Busia districts where children toil beyond their age and physical limits.
"Unfortunately this has not translated into wealth for the abused children. This is the more reason police should step in and fight the vice," Mutuuzo noted.
She was speaking at the occasion to commemorate the World Day Against Child Labour at Madibira Primary School playgrounds in Busia border town on Wednesday, June 12, 2019.
The Day was marked under the theme: "Children shouldn't work in the fields, but on dreams".
The Minister noted that the choice to host the event in Busia was intended to raise the profile of the fight against the vice of child labour in the area but also the country at large.
Speaking at the same event, the Busia District Chairman Geoffrey Wandera observed that according to the 2014 national population census, Busia had 99,217 children below the age of 18. Of these 24,919 (34.7%) are aged between 10-17 and are employed for domestic labour, informal cross border trade, mining, fishing, bars, restaurants and hotels among others.
"Because of this, the region and Busia district in particular has suffered an increase in teenage pregnancies, early marriages, school dropouts, HIV/AIDS, juvenile crimes, street children and child trafficking and modern day slavery," Wandera said.
He blamed the high prevalence of child lablour on the inadequate awareness, laxity in enforcement of child labour laws, parental neglect, low commitment from leaders and high levels of poverty and ignorance among the populace.
He revealed that as a district they have had various interventions to curb child abuse including; formulating and passing a child protection ordinance 2019, arresting and prosecuting perpetuators and creating awareness and engaging the business community on labour related issues.
He called for a cross border policy to tackle child labour and trafficking and also build a children's home to accommodate abandoned children. He further appealed to Government to lift the ban on recruitment to allow districts employ labour officers to address the emerging issues.