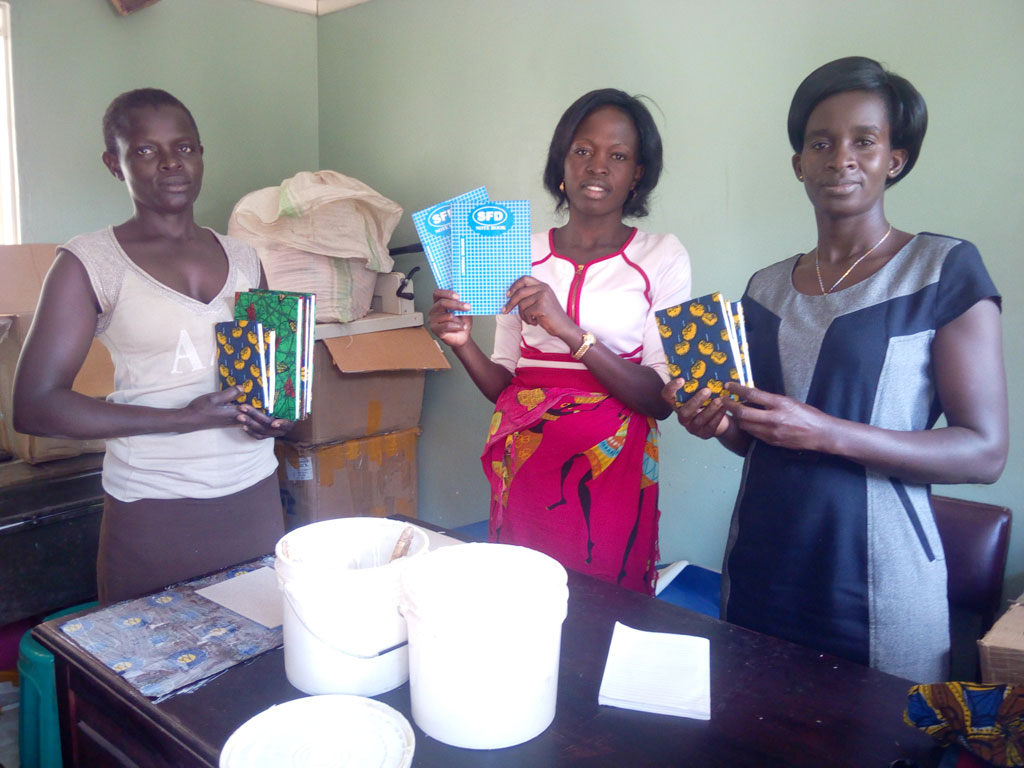 Single motherhood and limited means, coupled with unlimited demands is such a challenge to many women that some abandon their children while others resort to unbecoming social activities, some of which can endanger their lives.
The need for decent living in an ever challenging economic atmosphere which is characterized by an ever rising cost of living is a recipe for frustration and in some cases, self denial
However, not all single mothers succumb to fate.
In Soroti, Kichinjaji Single Mothers Association, (KISMA) is dedicated to making a living; a living through making stationery in the form of note books, and their innovation shows all the signs of paying off.
The association comprises Rebecca Akello, Caroline Alupo and Peninah AIupo, who in 2014 took the path to economic self-determination and dignity.
The threesome had together been to Madera Girl's Primary School in Soroti Town as pupils.
Ms Akello, the group chairperson says she introduced the stationery books business venture having heard of similar small scale businesses thriving at Nasser Road in Kampala.
However, she had to concretise her vision by travelling to Nasser Road for first hand observation and internalization of the processes involved.
"I returned equipped with mental imagery and also had still photos on my phone of the necessary processes leading to the production of stationery books; the challenge was how to raise the startup capital," Akello explains.
They started with UShs150, 000 they raised in three weeks. From the six reams of paper they started with, they made one box of books, and the dream of the Kichinjaji Single Mothers Association took off.
The enterprise kicked off by making notebooks, counter books, graph books, art books, with a unique design using improvised Kitenge cloth as the outer cover.
With increased demand and appreciation of their products, the need for increased output became apparent.
The group thus opened up to seven other single mothers, at which point they injected UShs100, 000 more working capital into the endeavour.
Determined to move the association forward, the group supplied the schools and supermarkets in Soroti Town and vended the products in cattle markets of rural Teso sub region. The prices range from UShs1, 500 to UShs6, 500.
Appreciative that the group was focused, the Soroti Municipal Principal Community Development Officer, Ms.
Damali Asekenye introduced the idea of  a loan fund under Uganda Women Entrepreneurship Programme (UWEP), which she believed would be assistive to the association's growth.
"We applied in 2017, and secured loan funding of UShs4.917m in 2018. We injected more money into the venture and hired space for our operations.
We have paid back UShs2m and plan to clear the balance by March 2019 as the business is bringing in some good money which is also helping in our sustenance as single mothers," Akello says.
She says, on monthly basis each member draws from the association over UShs100,000 as take home, besides the workplace meals.
The group of 10 members works in shifts. They produce 300 to 600 copies, depending on the demand; while some are making books, others make deliveries to the market, which is the routine throughout the week.
On Sunday, they individually go to Church to thank and praise God for bringing them this far.
"Because of this venture, my children have a shelter, they are clothed and have a complete set of meals; those are among the benefits we attribute to our business," Ms Alupo adds.
The group also saves some of the profits, for eventualities and further injection into the business.
They envisage setting up a stationery and bookshop in the heart of Soroti Town in the next two years and acquiring some equipment to ease the drudgery of manual labour.
The group also looks forward to securing another modest loan from UWEP, after clearing the outstanding one.
Soroti Municipality Principal Community Development Officer (CDO), Damali Asekenye says she shares in the pride of Kichinjaji Single Mothers Association, "a zeal to work; it is a successful group with a bright future."
She stresses that from their humble start, the group is doing well, that they now supply the municipality with books, they supply schools, and supermarkets, and surprisingly they are at the verge of paying their entire loan, which will earn them another loan upon expression of interest.