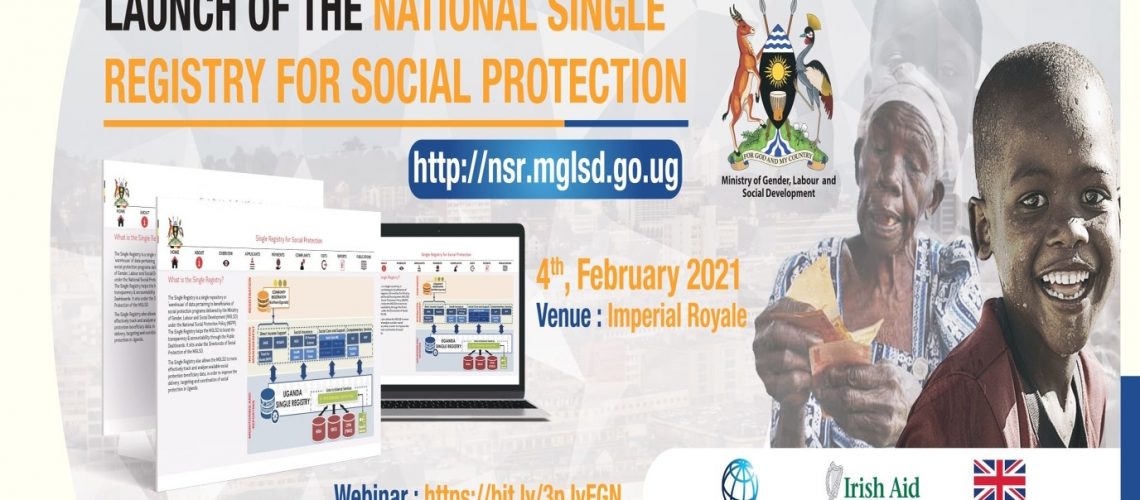 LAUNCH OF THE NATIONAL SINGLE REGISTRY FOR SOCIAL PROTECTION
The National Single Registry (NSR) of Social Protection is a unified platform where common and essential information across all social protection programmes in Uganda will be stored, analyzed and reported for the benefit of all stakeholders.
The NSR is premised on the National Social Protection Policy, 2015 which is anchored on two pillars, namely; Social security, and Social care & support services within which different stakeholders are providing social protection services to citizens.
Different management information systems have been developed to support the administration and management of social protection interventions under these pillars. However, these systems have been operating in silos which has resulted in the duplication and incoherence of information, wastage of resources and limited impact of social protection programmes on beneficiaries.
It is envisaged the NSR will remedy this by providing a common platform that will consolidate essential information on beneficiaries of social protection programmes. The success of the Single Registry therefore is underpinned in the establishment of linkages/integration with the program Management Information Systems (MISs) and key government MDAs and Development Partners.
The Single Registry for Social Protection  consolidates essential information on beneficiaries/potential beneficiaries of social protection programmes through establishment of linkages with program Management Information Systems (MISs) and the National ID Database. Anchored on the NSPP, 2015 which sets out a framework for a coordinated approach in the implementation of social protection programmes under two pillars of Social security, Social care & support services. It's an initiative of the GOU and MGLSD with support from; DFID and UK AID through the Expanding Social Protection Programme, World Bank through the NUSAF Programme. Key stakeholders and partners in the development of the NSR; MoGLSD, OPM, UBOS, NIRA, NITA-U, WFP among others. The NSR was officially launched on 4th February, 2021.