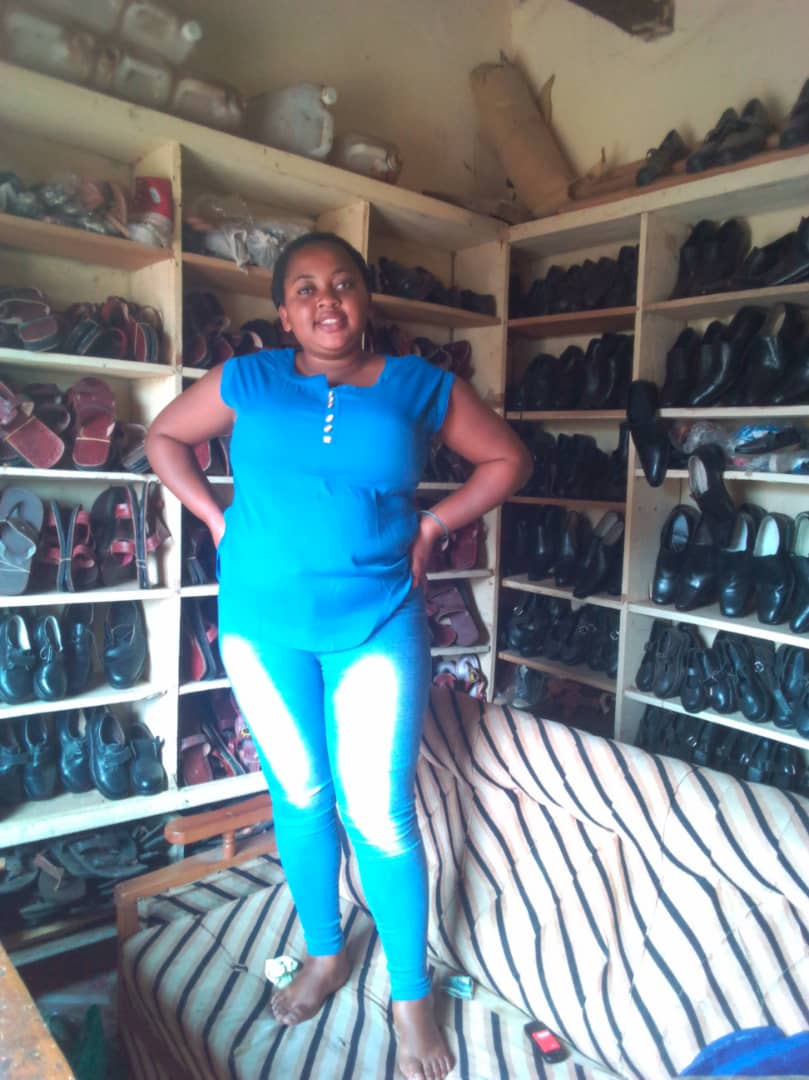 Members of Kakyeka Samie Youth Designers Africa Leather Project Rise from Rags to Riches
Komugisha Jasline has inspired Kakyeka Samie youth group to riches from rags through use of leather.
Jasline, the Chairperpon of Kakyeka Samie Youth Designers African Leather project shared her dream with group members after resigning her office job at Kisiizi Electricity Power Project in Rukungiri district. She had always wanted to be self employed with a passion for making shoes. It is that desire which forced her to leave the job and mobilize the colleagues to venture into production of leather goods as a way of earning income through fighting poverty and unemployment.
The Chairperson combined the skills she learnt at school and some practical lessons from observing what cobblers to start making shoes.
"I acquired skills from school and used to inquire from cobblers whenever anything was challenging with regard to making shoes," Komugisha states.
Located in Kamukuzi Division, Kamukuzi Ward, Kakyeka Cell in Mbarara Municipality, the youth group constitutes 12 members out of which 6 are males and 6 females. All the members are still active. The project received UShs10m in 2017 from the Youth Livelihood Programme (YLP) which members attribute to the success they are enjoying now.
They used the money to buy leather, sewing machine, threads, tanning chemicals, hammers, pliers, knives, renting the place to operate from among others. Komugisha says that they source most of their raw materials including leather and horns from the Kampala but adds that some players have been forced to import leather from Kenya because of irregular supplies in the country.
The decision made about three years ago is slowly but steadily putting Kakyeka Samie Youth Designers Africa Leather project on top of producers of quality leather products in the country.
The youth project makes a range of ladies, men and children's leather accessories including shoes, sandals, belts, to mention but a few in hand and machine made fashion. The group has so far repaid UShs5m as at February, 2020.
The cost of their products ranges between UShs50,000 and UShs150,000 for Go back to school and Gentle shoes, Kids' shoes (between UShs40,000 – UShs50,000), Sandals (Shs30,000) and between UShs30,000 – 50,000 for belts.
Benefits:
They bought a plot of land and have constructed three rentals. One of the houses has been finished ready to be occupied. The finished one is supposed to cost UShs250,000 per month. The other unfinished ones will cost UShs90,000 per month.
Derive a daily income from the business to take care of their families as well as being self-emloyed.
To those with children, paying school fees has become easy because head teachers know them as competent people who will clear fees since they have a stable income.
All the members have been trained and are fully aware of what they do since they also coach others in the community.
Quality of the products compared to when they started has improved that has led to increased customers. Today the business is now estimated to be worth about Shs15 million.
Challenges:
Getting good quality leather from the local market is a big challenge to the leather products because most tanneries in Uganda export all first grade leather, leaving low quality second grade leather for the local market and at times there are supply shortfalls for local producers.
Competition from the established manufactures also affects their market.
The public at times undermines our products as inferior and do not meet the international standards.
Future Plans:
Continue improving and expanding their business until the products match the standards
Set up individual projects but maintain the original one.