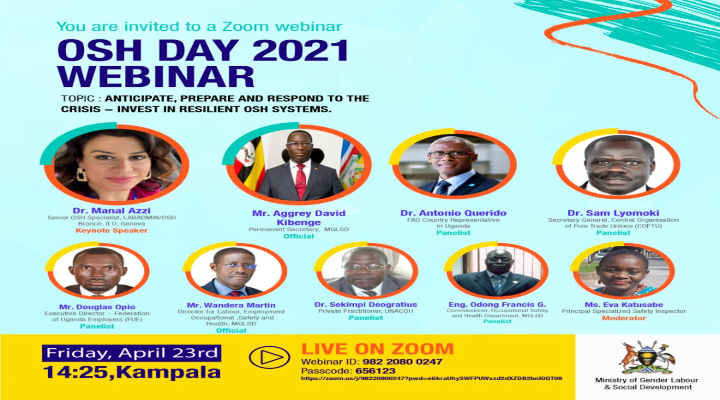 WORLD DAY FOR SAFETY AND HEALTH AT WORK
THEME:
"Anticipate, prepare and respond to the crisis – INVEST IN RESILIENT OSH SYSTEMS"
Every 28th of April, Uganda joins the rest of the world to observe the World Day for Safety and Health at Work.
The day is an awareness raising campaign intended to focus attention on emerging trends in the field of occupational safety and health (OSH) and on the magnitude of work-related injuries, disease and fatalities worldwide.
Over the past one year, COVID-19 pandemic has greatly affected nearly every aspect of the world of work, from the risk of transmission of the virus in workplaces, to OSH risks that have emerged as a result of measures to mitigate the spread of the virus.
In addition to the threat to public health, the economic and social disruption threatens long-term livelihoods and wellbeing of millions of Ugandans.
PROGRAM FOR OCCUPATIONAL SAFETY AND HEALTH WEBINAR SCHEDULED FOR 23RD APRIL 2021, AT 2:30 PM
TIMEFRAME
ACTIVITY
RESPONSIBLE PERSON
2:30 – 2:32pm
Opening prayer
Session Moderator

Ms. Eva Katusabe, Principal Specialized Safety Inspector, MGLSD

2:32 – 2:35pm
Welcome remarks
Session Moderator, Ms. Eva Katusabe
2:35- 2:45pm
Official Opening

Introduction of key note speaker

Mr. A. D. Kibenge, Permanent Secretary, MGLSD
2:45-3:15pm
Key note address
Dr. Manal Azzi,

Senior OSH Specialist, LABADMIN / OSH Branch, Governance Department, ILO, Geneva

3:15 – 3:45pm
Discussion by 5 panelists

(5 minutes each)

1. Dr. Sekimpi Deogratius Private Practitioner, UNACOH

2. Mr. Douglas Opio, Executive Director, FUE

3. Dr. Sam Lyomoki, Secretary General, COFTU

4. Dr. Antonio Querido, Country Representative, FAO

5. Eng. Odong F.G. COSH (ai), MGLSD

3:45 – 4:15pm
Discussions by Audience / logged in Participants
Session Moderator, Ms. Eva Katusabe
4:15 – 4:25pm
Closing remarks and way forward
Mr. Martin Wandera, Director for Labour, Employment, Occupational Safety and Health, MGLSD
You are invited to a Zoom webinar. When: Apr 23, 2021 14:15 Nairobi Topic: OSH Day Webinar 2021 – Uganda
Webinar ID: 982 2080 0247 Passcode: 656123
Please click the link below to join the webinar:
https://zoom.us/j/98220800247?pwd=eGkraUhySWFPUWxzd2dXZDB2bnlOQT09
International numbers available: https://zoom.us/u/ad4Y4eiY9n