UWEP helps Karusandara women fight stigma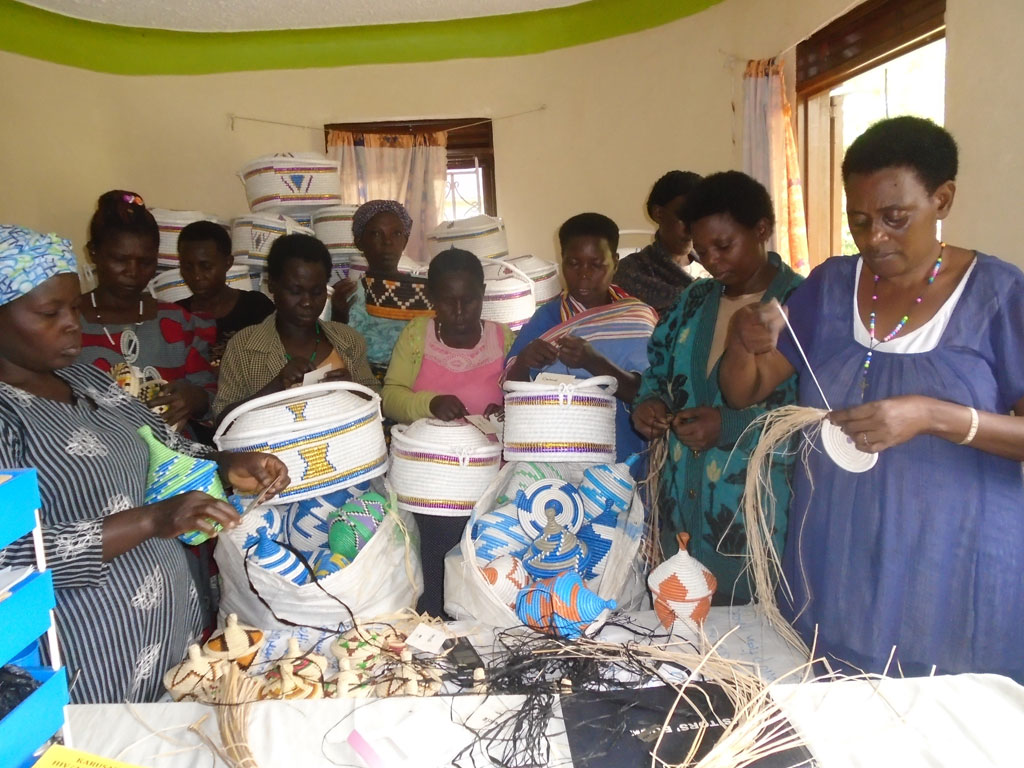 Originally discriminated against for being HIV/AIDS positive, 570 women in Karusandara Sub-county in Busongora South Constituency, Kasese District have reinvented themselves by forming a Crafts Making and Selling Group.
The group chairperson, Ms Donata Komuhangyi, says Karusandara Women Crafts Making and Selling Group was established in 2004, as a community development umbrella for HIV/AIDs positive women.
The women now have cause to smile, having raised their standard of living since.
"We could be denied credit services from our village credit and saving groups because we were seen as walking corpses, the reason we formed a group through which to associate, as we had similar problems', she recalls.
She notes that the main objective of the group was to fight stigma and discrimination in the community, act as role models to the rest of positive living mothers and plan for the future of their children and the group's welfare.
Ms. Komuhangyi notes that Uganda Women Entrepreneurship Programme [UWEP] support has not left them the same, "The group received UShs3.3 million in September 2017, which grew to UShs27m from the first sale; UShs43 m from the second sale and expects UShs60m form the April 2019 sale.
Each basket is sold for between UShs20, 000 and Shs50, 000, taking advantage of a ready international market in the United Kingdom and Australia.
The group is also involved in drama, teaching about survival, monitoring and planning, nutrition support, hygiene and sanitation.
Ms Komuhangyi says crafts-making, relieves members of stress, considering that the members are positively living.
Group members have repaid the loan in one year. The profits are shared among members and largely used for individual savings and payment of school fees for their children.
Members say that since 2017, their lives have changed; they feed better and some have constructed permanent houses.
Speaking for the group, Ms Komuhangyi says their major reservation is in respect of the sourcing of raw material,
"We spend much money buying and transporting materials from Wakiso and Kampala.
The locally available alternative, the papyrus reeds, are only found in the national park which is not accessible.  We then use banana fibres which are not good during rainy season."
She notes that some of the members' children who are positively living with HIV/AIDS have dropped out of school due to stigmatisation by other students, a consequence of routine medication, indeed the reason the group was formed; self-reliance and children's education.
She also says limited capital is another limiting factor, "We applied for more funds last October year, but whereas the officials have told us the money is available, we missed a good order.
We have had no explanation about UShs12 million we expected and nobody knows where that money is.
We have another big order in April but we have no certainty that we shall make it as the money is yet to be released, although we are told we shall get it," she says.
As women celebrate the Women's Day on March 8, Karusandara Women Craft Making and Selling Group believes many women are yet to benefit from UWEP support.
"We wish to give live testimonies about the appropriateness and value of the program but how do we do it!  We are grateful to the government and pray for its long stay in power," she says.
Karusandara women, think government needs to increase the funding to benefit the many women who are needy, "Take the bigger picture of the entire sub-county; how many women are yearning for funding."
Having excelled in craft making and selling, the women have set their sights on training in shoe making for the local market. They also need study tours for exposure to the rest of the world.
They have learnt of the skills to improve their business when they toured Wakiso district and they are certain of a market for the envisioned shoe making enterprise. What remains are the acquisition of appropriate skills and necessary materials.
The Senior Community Development Officer [SCDO] for Kasese District Ms. Queengonda Asiimwe is appreciative of the group's progress.
She says a group in Nyakatonzi Sub-county called Tukwatanise women group is engaged in Bull fattening and is equally successfully.
She notes that the fluctuation of prices is a major challenge to the majority of the groups, affecting the recovery of the money extended to them.
Further, whereas women don't own land in the district, the majority get funds to invest in agriculture which they use to hire land at high prices which limit their prospects.
The officer proposes that for the program to succeed, government needs to increase the operation funding from UShs4m to enable the monitoring and supervision function.
She urges government to increase of the UWEC funds; Kasese district only gets UShs200-300m; if divided among 39 sub-counties, each of the two groups selected would receive an average of UShs3.8m.
She maintains that UShs12m was approved for the group, having exhibited seriousness in investing the initial funding.